It's very rare that I get to trial a product about which I have no reservations at all.
Most betting services, in my experience, contain a mix of good, average and poor features of various types, all combined in different ways.
OddsMonkey, however, is different.
It's beautifully designed, logically laid out, simple to use and powered by a range of comprehensive and thoroughly proven tools.
Support levels are excellent, plus it's extremely good value and, most importantly, very profitable.
Seriously, what is there not to like about OddsMonkey!?
So clearly – it's going to earn a Pass mark from me. But I wanted to do better than that in my trial conclusion.
Here then is my list of reasons why I think OddsMonkey is a truly special matched betting service….
(If however you're new to OddsMonkey, I recommend you first have a read of my introductory post and earlier progress updates before returning here for my closing thoughts).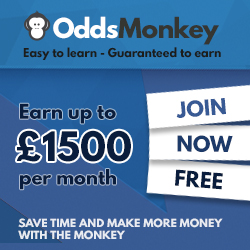 OddsMonkey is special because…
1. Unlike many matched betting services, OddsMonkey's service is driven by software that was developed and maintained by an in-house technical team over 5 years. This kind of expertise almost guarantees great levels of support.
2. Several of the software tools have long been used by other service providers: giving the OddsMonkey team an extended opportunity to enhance and prove their reliability and quality.
Thus, although OddsMonkey may be a relatively new name in the matched betting world, their software has been constantly added to over time to satisfy real customer needs.
3. OddsMonkey offers direct links to many bookmakers and exchanges, making trading much faster – and saving you from having to hunt around to find the right match or race on which to place your bets.
Where direct links are unavailable, OddsMonkey usually supplies details of the particular event (league, country etc.) so that you do not have to know anything about sport in order to get involved.
4. Customers can save favourite search filters to be reused later and set up alerts so that they'll be emailed when opportunities they'll be interested in become available.
5. The service is driven by a powerful Daily Offer Calendar that I have found to be extremely user friendly and fully mobile responsive.
There really is no need to feel overwhelmed when the service guides you so clearly each day to where you need to go:
6. You also get a wonderful tool called the Racing Matcher, which maps bookmaker offers to specific courses and races.
This helps you work through the opportunities that apply across the daily race card in a structured way. You don't need to miss a thing.
7. OddsMonkey offers powerful dutching search software as part of the premium membership. (And yes, it supports stake rounding to mask arbs from bookmakers).
8. You can easily disable a bookmaker for a period of time or indefinitely – so there's no need to be presented with opportunities that don't work for you.
9. The OddsMonkey calculator offers a visual breakdown of exactly where your money ends up, no matter whether your back bet wins or loses. This could prove very helpful for beginners trying to grasp the initial concept.
10. The integrated calculator will warn you if there is less money available at the exchange than you require to fulfil your trade.
11. You can customise your commission settings so that you see accurate opportunity ratings and profit figures.
12. By default OddsMonkey will hide all bookmakers from UK residents where the bookie isn't permitted to trade in the UK market (e.g. Pinnacle).
You can however choose to override this option in the Oddsmatcher settings panel.
You can also configure other settings to fine tune your search results – with the settings being explained as you hover over the information icon:
13. The standalone calculator is currently being amended to include functionality to enter part lays for use when not all your original lay was matched.
OddsMonkey tell me that this undoubtedly useful feature with be available 'within a few days'. It is this kind of helpful detail that makes the service stand out.
Summary
I frequently despair of the poor quality of many of the products I get to test. And in particular, there have been times this year when I have started to wonder if I am completely wasting my time.
OddsMonkey has therefore been an absolute breath of fresh air. To say it is the best product I have tested to date in 2016 is selling it short. It is miles ahead of anything else I've trialled.
This is emphatically not a product aimed solely at beginners. There are so many ways to profit here that I can scarcely believe the price – just £15 per month.
Awarding a Pass mark is therefore an easy and pleasurable decision. But that just doesn't seem enough.
So: I've decided to make OddsMonkey only the third product that I've ever Passed With Flying Colours.
If you've not looked at it, I strongly recommend you do so – right now, right here.
You won't regret it.
Lucy
3rd March 2017 Update – You can now get this amazing product for one measly pound – but you have to move fast as the offer will be taken down on 5th March 2017. Details of this offer are here.
(Visited 1 times, 1 visits today)