I've lost count of the number of services I've tested.
I can't even be bothered to work it out … but it is a hell of a lot.
I kicked off the site in 2011 and it's been relentless ever since.
I began thinking that I'd probably have to buy most of the products I wanted to trial but in practice, the site soon started attracting visitors and suppliers started supplying services for free.
I confess, I thought this was great!
Trouble was though, so few of them worked.
However, one or two did.
And now, six years on, I'm happy to summarise which ones they are…
Betting systems fall into five broad categories.
They are, in no particular order:
Matched betting services
Trading systems
Straight backing products
Straight laying products
Support services.
You can make a case for any of them. And, over the series of a number of articles, I intend to do precisely that.
But the fact is, some are a darned sight easier to defend than others.
So I am going to begin today with the case for Matched Betting – undoubtedly, the easiest opportunity to make a case for in the betting systems world – and tell you what my all-time favourite matched betting system is.
Incidentally, I should clarify that this series of articles isn't intended to replace my annual Betting Oscars. They are voted for by my readers whereas these posts will be based entirely on my own opinions.
A Match Made In Heaven
There are no free lunches in this life apparently but matched betting gets pretty close.
Indeed, I am still amazed at the mere idea of it. It's such an extraordinary concept that, when you explain it to someone new to the gambling world, they will, almost certainly, not believe you.
The bottom line is, however, that there really are lots of ways you can cover all eventualities in many sporting events in such a way as to produce a positive return no matter what the result.
Which means that, if you find the right opportunities, you can dip into the market for pretty much risk-free cash whenever you feel like it.
Now, when I first got involved with Mike Cruickshank's Bonus Bagging product – still a pretty good place to start, incidentally – I couldn't quite believe how easy it all was.
You can read my full trial thread here but the main emotions were that it was so liberating – knowing you couldn't lose – and ultimately so boring – knowing you couldn't lose.
And then, of course, the bookies got wind of what we were all up to – and started to close accounts.
And they often did so after only one or two bets had been placed!
So… were they spying on us?
And isn't that illegal?
Well, whatever you believe about all that, I personally am of the view that you have to have your guard up nowadays.
There have been too many reported incidents of bookmakers' customers having mysterious bits of software from a company called IESnare loaded automatically onto their computer for us to be complacent.
So, my favourite product in the Matched Betting category is…
The wonderful OddsMonkey matched betting service.….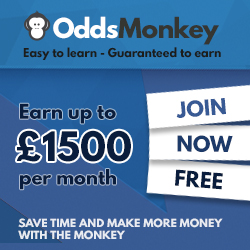 …. but it needs, in my opinion, to be backed up by the remarkable Jolly Lock IP software to give you additional protection.
Now, it's almost exactly a year since I concluded my trial of OddsMonkey and, if anything, I like it even more now than I did then.
It contains even more methods for making money from matched betting than it did when I first fell in love with it.
And yet it remains an outrageous bargain at £15 a month which compares almost ridiculously favourably against other products in the same class.
It comes with excellent training guides and first-rate support too, and, because it is paid for on a monthly basis, your matched betting can finance each period you buy the product for with just a couple of trades.
As for Jolly Lock, well it is strictly a support product so maybe it's one I should include in my upcoming 'Support Services' article.
However, it sneaks in here as it really is the natural bedfellow for OddsMonkey.
My trial conclusion explains how it can never be a silver bullet to keep a snooping bookie at bay but it will, in my experience, protect your privacy long enough for you to exploit the matched betting opportunity fully.
It really is a marvellous service that has been developed explicitly for matched bettors.
Again, you should be able to finance the monthly fee from a few trades each month – leaving you free to keep the remaining profits for yourself.
Summary
I have been meaning to write this series of articles for a long time but have kept changing my mind about what the products or services are that I should include.
However, I will now add one article every week, covering each of my five categories in turn.
I'll be back with my favourite backing product on June 4th, 2017.
In the meantime, the links for my two preferred matched betting services are as follows:
I feel very confident you will not go wrong with this combination.
Lucy
ps why not have a quick read of my free ebook on making £1000 per month from betting? It is ultra-easy to follow, and you can get a copy now just by clicking this link!
(Visited 1 times, 1 visits today)